Fast-paced i2 Analyst's Notebook training
From October, DataExpert will offer the opportunity to take a fast-paced version of the i2 Analyst's Notebook training. Its content is the same as the regular i2 Analyst's Notebook training, but the difference is that it is delivered in three classroom days and one module of self-study via e-learning, instead of four classroom days and one module of self-study via e-learning. This means the teaching materials are covered at a faster pace with a higher degree of independence.
During this training, you will learn how to use i2 Analyst's Notebook as a tool to solve larger issues such as 'Find out if there is a link between a series of burglaries and a series of phone calls'. The examples and issues come from police practice (car theft, human trafficking, drug trafficking, murder and robbery) and from the financial sector (financial fraud, identity fraud, skimming, forgery, money laundering). If you want to register for this course, you need to be using i2 Analyst's Notebook in your current position.

What do you learn during the training?
Building charts and, in doing so, devising multiple data models and thus representing the same data in multiple ways
Importing data into different types of charts
Applying layout options to charts, such as Peacock Layout, Grouped Layout and Minimise Crossed Links Layout
Using various search options, such as Visual Search, List Items and the Search Function
Analysing complex charts using bar charts and histograms
Searching for duplicate entities with Smart Matching
Using Social Network Analysis to recognise key players in a complex chart
Showing geographical data on a map
Applying Conditional Formatting, to see important information in context and make relevant information stand out automatically
Importing large amounts of data such as phone calls and financial transactions from Excel and text files
 Note: we recommend taking this training prior to the i2 iBase User training.
For whom is this training intended?
The training is intended for investigators and analysts who are (or will be) involved in visualising and (in-depth) analysis of investigation data (for tactical, strategic or operational analysis). i2 Analyst's Notebook is mainly used (usually in combination with i2 iBase User) by analysts from the police, defence, large private or government organisations, banks, non-profits and insurance companies.
Questions to help you decide whether fast-paced training or regular training is right for you:
Experience: 
Do you have experience with i2 Analyst's Notebook?
Do you have experience with other visualisation or analysis programmes?
Do you have experience with features such as Social Network Analysis; Conditional Formatting; bar charts, histograms and heatmaps?
Would you describe yourself as digitally savvy?
Do you find it interesting to delve into new data concepts and developments in this field?
Can you familiarise yourself with new topics quickly?
Knowledge: 
Do you know what an entity is?
Are you familiar with creating entities and links?
Do you know how to view and modify properties of entities and links?
Can you read i2 Analyst's Notebook charts?
Do you have experience in creating timelines and/or relationship charts?
Do you have experience importing data into systems?
If you answered "yes" to 2 or more of the experience questions and if you answered "yes" to 1 or more of the knowledge questions, we recommend taking the fast-paced training. This is our advice, but the decision is ultimately yours. 
If you are unsure about which training is best for you, please feel free to contact us at training@dataexpert.nl. 
Analytics badge
Once you have completed this Analytics training at DataExpert, you will receive a digital badge in addition to a diploma or certificate. This badge is easy to integrate on social media such as LinkedIn and is linked to your profile through the present metadata.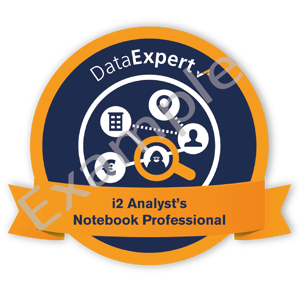 Additional information
Are you working with version 8 and have you not yet made the switch to version 9? Upon request, it is possible to take the i2 Analyst's Notebook training in version 8. It is also possible to do a customised i2 Analyst's Notebook training.